Cranberry Black Madras
The Cranberry Black Madras cocktail is a great alternative to the typical cranberry vodka cocktail. I prefer it because it's not as tart but is still waistline friendly.

Ingredients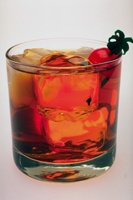 3 oz. Bacardi Black rum
4 oz. orange juice
4 oz. cranberry juice
Cherries or orange slices for garnish
Mix together and pour into a tall glasses with ice and garnish. Serves 2.