Cuisinart Nonstick Cookware Reviews
by Sandee
(www.theme-party-queen.com)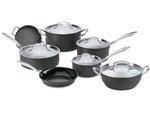 Cuisinart is one of the top brands in the kitchen industry. Not only do they make some of the most beautiful stainless steel cookware, but they make a variety of small kitchen appliances that make cooking easier and more enjoyable.

Most of the Cuisinart nonstick cookware on the market is made from aluminum, but you can find a piece of stainless steel here and there with nonstick coating.

Cuisinart Nonstick Cookware Features

There are four different lines of nonstick cookware on the market from Cuisinart right now:

Advantage Nonstick: aluminum pots and pans with tempered glass lids.

GreenGourmet Stainless Nonstick: aluminum base with petroleum free interior coating and stainless steel styling on the outside. Tight fitting stainless steel lids.

GreenGourmet Hard Anodized Nonstick: same as GreenGourmet Stainless, but made with hard anodized aluminum instead of stainless steel.

Chef's Classic Nonstick: hard anodized aluminum with stainless steel handles and tempered glass lids.

Chef's Classic Nonstick Stainless: stainless steel pan with stainless steel handle. No cover.

Notice that some of these lines are the same basic designs, but are made from different basic materials. This gives consumers the selection between aluminum pots and pans and heavier models made from stainless steel.

What all of these lines have in common is the nonstick interior coating. They are all designed to cook healthier, fresher foods that don't stick to the pan.

Benefits of Cuisinart Nonstick Cookware

There are quite a few other lines of cookware on the market from Cuisinart right now, but there are some clear advantages to purchasing nonstick sets.

They allow for healthier cooking since you don't need to add oil to saute and fry. They also help prevent burning or the taste of overcooking in your food if you are distracted while throwing a meal together.

The ability to select between aluminum and stainless steel is also an advantage since some consumers prefer the heavier feel of a pan made from stainless steel. Yet, the aluminum sets come in different color selections (like red) that some consumers prefer.

Bottom Line

The aluminum sets receives a lot of positive reviews from consumers because they are a bit heavier than the aluminum pans from some other top cookware brands.

They also heat very evenly and help the inexperienced cook get a great meal on the table without burning or excessive oil.

The downside seems to be that the nonstick coating wears off after a year or two on the aluminum designs. The stainless steel Cuisinart nonstick cookware sets don't seem to have this problem. Consumers report they are very slick and stop sticking even after years of use.

Consumers tend to love the heavier feel and the slick interior of the stainless steel nonstick pots and pans from this brand. The aluminum pans are lighter and may start to lose the interior nonstick coating a bit faster.



Join in and write your own page! It's easy to do. How? Simply click here to return to Best Cookware Set.
Want To Stay In Touch With Theme Party Queen?
Here's how you do it:
Our goal is to create a community of like-minded people who like to share ideas and who are open to making new friendships. We would love for you to join us today.