Ecko Cookware Review
by Sandee
(www.theme-party-queen.com)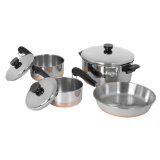 When choosing between a little or unknown brand name and a big brand that has been on the market for many years like Ecko cookware, most consumers will go with the name they are already familiar with. Reputation counts for a lot in the cookware industry.

Since Ecko has been selling cookware and other kitchen gadgets for more than 100 years, they definitely have the clout to stomp on little known brands. They are clearly one of the most recognizable brands on the market today. Yet, we all know a recognizable, well established name doesn't ensure their products are worth buying.

Ecko Cookware Features

Ekco is most known for their gadgets and small kitchen tools that make cooking and preparation easier and more time efficient. The cookware that they offer tends to be more selective. It falls into these general categories:

Stock Pots
Sauce Pans
Saute Pans
Sauce Pan Covers
Saute Pan Covers
Tea Kettles
Griddles

While limited to these types of cookware pieces, they still offer a nice range of products to select from.

Most pieces are made of aluminum and many pieces have nonstick surfaces. Nonstick coating is practically a necessity for all maker cookware brands, since so many consumers rely on that to prevent burnt food and horrible tastes.

The Everyday Radiance cookware line is clearly one of the most popular and better known lines from the brand. These classically designed, basic pots and pans are designed of durable aluminum.

They have oven-safe handles that can be heated to 350 degrees and nonstick surfaces that help create healthy meals without added oil.

There are also some modern designed pieces coming out from the brand, but you will have a much harder time finding consumer reviews for those. They may be more suitable to cooks with very modernly decorated kitchens.

Benefits of Ecko Cookware

Affordability is probably the biggest benefit to purchasing cookware from Ecko. These are some of the most affordable pieces you will find with advanced features like nonstick coating and oven safe handles. The basic designs are functional without inflating the price per piece or cookware set.

The basic designs and availability of the Everyday Radiance line are also benefits to the brand. You can find these pieces at affordable prices through most major retailers that sell cookware. The designs are familiar just like the brand name, which is a comfort to some cooks.

Summary

Ecko cookware is clearly not up there with state-of-the-art kitchen tools. This is a great brand to shop if you are on a tight budget or if you just want something very basic for occasional or everyday family cooking.

If you are more of a professional cook and tend to be very demanding in terms of quality and advanced features, then most pieces from Ecko are probably not going to make the cut for you.

The major complaint against the brand is that the nonstick surfaces aren't as nonstick as most consumers would like. This is a common problem with lower priced cookware in general, not just with Ecko. This is clearly a market where you get what you pay for.



Join in and write your own page! It's easy to do. How? Simply click here to return to Best Cookware Set.
Want To Stay In Touch With Theme Party Queen?
Here's how you do it:
Our goal is to create a community of like-minded people who like to share ideas and who are open to making new friendships. We would love for you to join us today.