Emeril Lagasse Cookware Review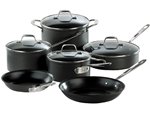 Fans of the indomitable Emeril Lagasse will finally have an opportunity to use cookware worthy of this popular chef's talents. In a marriage made in heaven he and Allclad came together to create Emeril Lagasse cookware.
Now you can bring home cookware perfect for creating those fabulous dishes that he cooks up on daytime television.
The first thing you will find with this cookware is a wide variety of options. Whether you enjoy cooking on seasoned cast iron or non-stick cookware, you will find a set of pans just right for you. Many customers prefer to have a few different varieties on hand so they have the perfect tool for every cooking job.
Cookware Features
The product lines are continually being updated and enhanced for perfection, when you are as well-known as Emeril any product you endorse must be the best of the best. Here is the most current listing of Emerilware products on the market:
Tri-ply: stainless steel
Stainless steel and copperl
Hard anodized aluminuml
Hard enamell
Enamel cast ironl
Seasoned cast ironl
Line of kitchen electrics including: toasters, blender, bread maker, deep fryer and morel
Cookware Benefits
Teaming up with Allclad has provided a long lasting product that you can safely rely on for 20 years or more if you take care of it properly. Allclad hand inspects every piece of cookware that rolls off the line and metallurgists manage and monitor the development of American made steel.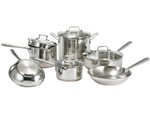 Hard anodized aluminum offers a strong cooking platform and since aluminum retains heat much longer, you can greatly reduce the amount of heat you must apply. This is also the best way to keep your food from sticking to the pan during the cooking process.
One thing that many cooks appreciate about this cookware is its ability to go from the top of the stove to the oven with ease. Pans and lids alike are perfectly safe for either application, though lids can only be used with oven temps of 350 or less while pans are rated for up to 450 degrees.
What Do Customers Think?
Emeril Lagasse Nonstick - "These are great pans. Although you will be cautioned to take care of them correctly, you should know that you do not have to handle them with kid gloves either. Even if you boil eggs dry and scorch the bottom (my husband did) a bit of soapy water and a soft cloth will bring it back to like new status."
The only downside to these pans is weak lids. One customer had a surprising experience when they set a lovely pan of soup on low and came back a few minutes later to find the glass lid cracking!
Summary
If you are looking for a great set of pans created by a company known for good old-fashioned American quality, Emeril Lagasse cookware is a good choice. There is a wide variety of cookware available for every type of cooking situation. You can choose from a variety of nonstick pots and pans as well as enamel coated cast iron.
Favorite Sets
Our partner, Cooking.com, offers Emerilware and other Allclad cookware sets at reasonable prices. Using their website is an easy way to compare different sets so you can make an informed decision. Here are a couple of our favorite sets: