Fiesta Dice Party Game
by Dianne
(Austin, TX)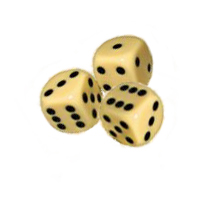 In this Fiesta Dice Party Game, all players start with $3. There are three dice. You roll as many dice as you have dollars. If you roll a 4 - $1 goes to person on the right, if you roll a 5 - $1 goes to person on the left. If you roll a 6 - $1 goes to pot in the middle. Last person standing with money wins the pot.

TPQ Comment: This is exactly how the LRC Party Game is played except that rather than playing with regular dice the group plays with dice that have an L, an R and a C on them. Another visitor contributed this fun game. You can read about it here:

http://www.theme-party-queen.com/left-right-center-party-game.html

Thanks for sharing your version Dianne.
Join in and write your own page! It's easy to do. How? Simply click here to return to Theme Party Games.
Want To Stay In Touch With Theme Party Queen?
Here's how you do it:
Our goal is to create a community of like-minded people who like to share ideas and who are open to making new friendships. We would love for you to join us today.