Fruited Brandy Punch
This Fruited Brandy Punch is by far my most popular party punch. It is so festive looking and is so beautiful that it also serves as a centerpiece.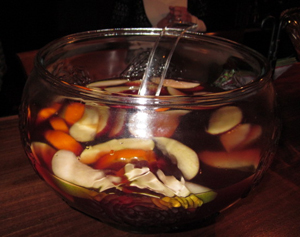 1/2 part brandy (I use Christian Brothers brand)
1 part lemon-lime soda
2 parts fruit juice (Cranberry-Peach blend is my favorite)
1/2 bag frozen fruit (Blueberries and strawberries look great)
1 fruited ice ring (see recipe below)
Slices of apples, lemons, limes and oranges, if desired
Mix fruit juice and frozen fruit together in a decorative punch bowl.
Pour in lemon-lime soda, gently stir and then float an ice ring on top (see recipe below). Rather than spike the punch, I serve the brandy on the side so my guests who prefer non-alcoholic punch can drink it too.
How To Make An Ice Ring
Pour 1-2 cups of the juice mixture from above into a Bundt pan or another mold. Add some of the fruit and/or fresh citrus slices. Freeze overnight.
Just before serving, set the pan into some hot water to loosen the ice ring and then turn it into the punch bowl. It makes a really beautiful presentation, cools the punch and since it's made with juice, it will not water down your fruited brandy punch. Perfect!
Click here for more party punch recipes.