Funny Halloween Costumes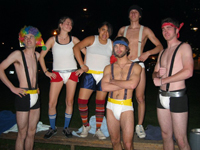 I asked my friends to contribute some funny Halloween costumes so I could build this page and added them to my collection of photos that I have gathered over the years.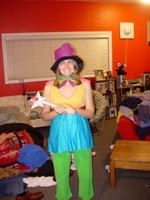 One of the first ones I received was this one from a family friend. She and her college buddies dressed up as babies, wearing diapers taped around their waists and underwear. I think they were in a contest but lost. If you are daring enough to wear so few clothes, this is a funny choice.
This friend also contributed a picture of herself as "The Madhatter." Looks to me like all she did was buy a hat with a matching bow tie and then dug through her closet to find a zany combination of colorful items and layered them all on!
You could do a lot with this idea. Think of the funny Halloween costumes you could come up with by just throwing miscellaneous pieces of clothing together?
This is certainly one of the most funny Halloween costumes I have ever seen. It is very inexpensive and easy to make too. A winner all the way around.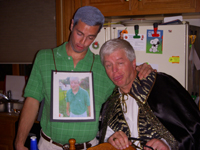 Everybody knows somebody who is quite the character usually because they have funny mannerisms, like making strange faces all the time. Well the guy on the right side (Denny) is such a guy.
The young ones in the group really like this guy and they like to make fun of him. The year this picture was taken, the guy on the left (Joe) decided he was going to dress up as "Denny."
He wore clothes like Denny, spray painted his hair gray, stuffed a pillow under his shirt to make a belly and then he found of picture of Denny and hung it around his neck. He also borrowed one of Denny's shirts from his wife, tucked it in and belted his pants like Denny does.
The funniest part of this costume was Joe himself going around the party all night making funny faces like Denny does. This picture tells the whole story.
Think of what you could do with this idea! Emulate a teacher, an annoying boss, a coach, a grandparent, or one of your siblings. The possibilities are endless!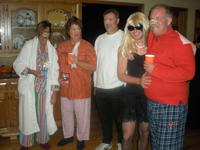 Okay, the year these folks wore these funny Halloween costumes was the year that the swine flu was breaking out all over the United States.
This group of friends thought it would be funny to dress up as if they had the flu, wearing slippers, pajamas and pig noses and carrying wadded up tissue, cough drops and Nyquil. They looked ridiculously funny!
There was also a guy dressed up like Lady Gaga that year, complete with high heels, torn nylons and a wig. Guys dressing up as gals is always funny, right?
More Halloween Theme Pages