Goat Cheese Pesto Dip
My husband and I were looking for something to do one Friday night so we dug out our Yahtzee game and I made our favorite Goat Cheese Pesto Dip. He won, hands down, by rolling a Yahtzee in every game! I didn't even get one, but the dip was outstanding.
I originally got this recipe from a neighbor. We used to be part of the same Bunco group and she brought this dip to our annual Bunco Christmas party, I guess because it is green and red and really easy to make.
Served warm, this dip is absolutely addicting and just about everybody asked her for the "recipe." Turns out, it only has 3 ingredients, but tastes like it was made by a culinary genius!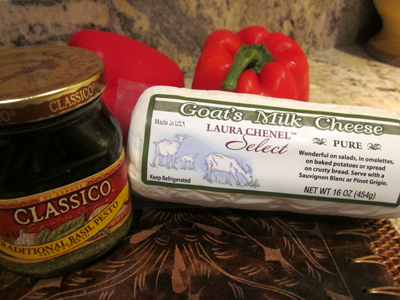 Ingredients
1-5 oz. log of Chevre Goat Cheese
1 10 oz. jar of Pesto (I use Classico brand found by pasta sauces)
2 red peppers, diced


Place goat cheese in an oven proof dish. I usually buy the large log of goat cheese (16 oz.) and then depending on how many people I am serving, I may use more than 5 oz. Cover the goat cheese with pesto and then sprinkle the red peppers all over the top.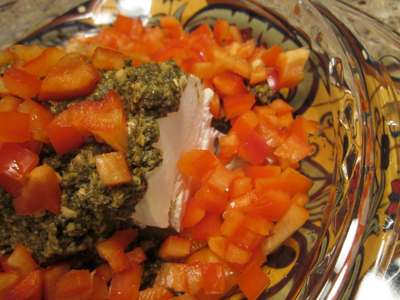 Bake at 300 degrees for 30 minutes. If you warm it too quickly, the pesto will separate. Serve with your favorite crackers or Fritos Scoops. Chunks of Italian bread of yummy too.
NOTE: Some store bought pesto has a lot of oil in it. If possible, pour excess oil off before topping the goat cheese. Some oil is good for flavor but too much looks BAD. You don't want your red peppers floating in oil.
Another Pesto Red Pepper Recipe
Something magical happens when you combine pesto and red peppers. Whether you use fresh red peppers, like in the goat cheese pesto dip recipe above, or you use a red pepper spread like in the recipe I'm going to share next, they just plain work together.
I had made the recipe above so many times before I found the red pepper spread at Trader Joes and other markets. I decided to buy it and see what I could come up with.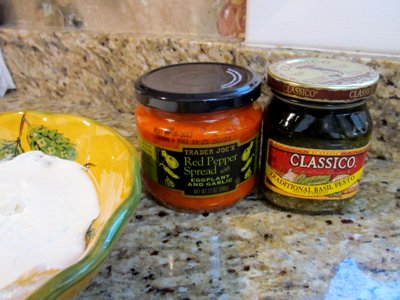 I substituted cream cheese for goat cheese for the bottom layer. Next I added a layer of pesto then a layer of the red pepper spread. Sprinkled a little bit of parmesan on top then a dab of pesto for color and WHA-LA!
I serve this one cold but you could easily warm it up too. Just garnish after it's out of the oven.
You will find several more cold and warm dip recipes here.