Grand Marnier Chocolate Fondue
Grand Marnier Chocolate Fondue is elegant enough for a special dinner party yet its simple ingredients make it a good choice any time you need an easy dessert recipe for adults.
Pair it with an after dinner cordial like Baileys on the rocks or this recipe for Irish Cream Coffee. A nice way to wind down an evening with friends.
Ingredients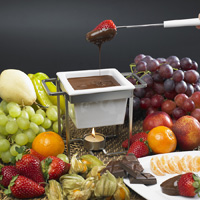 1 orange
1/2 cup heavy cream
1/2 pound bittersweet or semi-sweet chocolate
2 tablespoons orange juice
1/4 cup Grand Marnier (or other orange liquor)
Dippers including pound cake, strawberries, pretzels
Zest the orange using a microplane, fine grater or vegetable peeler being careful not to include the bitter white pith. In a small saucepan, bring to a simmer the orange peel and the cream. Simmer for 5 minutes infusing the cream with the orange flavor.
Grate or chop the chocolate and place in a fondue pot. Using a strainer to catch the orange peel, pour the warm orange flavored cream over chocolate and stir until melted.
Stir in the orange juice and Grand Marnier, taste and add more if a stronger orange flavor is desired. Set the fondue pot to low and serve with dippers.
Visit our Fondue Theme Party page for more information, including how to make fondue, more easy recipes and our top rated fondue pots and chocolate fountain recommendations.