Hard Anodized Nonstick Cookware Reviews
by Sandee
(www.theme-party-queen.com)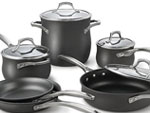 If you are looking to replace your current collection of pots and pans, you might want to check into Hard Anodized Nonstick Cookware. Does that sound like something from outer space?

Rest assured these pans are not alien, but are in fact created from anodized metal, a specific process that, when done correctly, renders an almost diamond hardness. Of course, nonstick means the pans will be coated with Teflon or some similar product.

What is It?

Hard anodized nonstick cookware comes from a variety of manufacturers and carries many different names. Rachel Ray, Emeril Lagasse and Cuisinart are all names you will instantly recognize and they all offer anodized cookware.

Nonetheless, that does not say much about what this product actually is. Here is a brief description of the process and the end result.

First, aluminum is put through an electro-chemical process to create anodized material. It is given an acid bath then hit with an electrical charge which changes the chemical makeup of the metal. This results in a controlled oxidation and results in a rock hard metal.

This process was originally aimed at the restaurant business, chefs wanted heavier more durable pans that could take the beating of creating multiple meals per day.

Why Is It a Good Thing?

Anodized pans have several advantages over standard cookware; one of the major differences is in how the nonstick surface reacts. With standard nonstick cookware, there is a tendency for the Teflon to flake off, allowing food to come into contact with the unprotected aluminum. This results in chemical reactions in the food and has been linked to Alzheimer's.

Hard anodized nonstick cookware however does not have this same tendency; Teflon adheres much better to the surface. Anodized aluminum has also been chemically altered which makes it safe for consumer use, even if the food comes into contact with it.

Bottom Line

You will have many different options when it comes to hard anodized nonstick cookware. This process and the resulting product have become very popular in a short amount of time. If you are having a hard time choosing between the many different brands here are a few tips to help you along the way.

Choose a product that fits within your budget. For many people this is more important than how long the pans will last. They could last a couple millenniums but if you cannot afford to purchase them what is the point?

Perhaps your best source of information on pans of this nature, other than consumer reports, is prior customer experience. Reading online reviews will give you a better idea of whether a particular set performs like it says and how well they hold up over time.



Join in and write your own page! It's easy to do. How? Simply click here to return to All Clad Cookware.
Want To Stay In Touch With Theme Party Queen?
Here's how you do it:
Our goal is to create a community of like-minded people who like to share ideas and who are open to making new friendships. We would love for you to join us today.