Last Minute Halloween Costumes
Several of my friends plan out their costumes months in advance. Not me. I am always looking for last minute Halloween costumes. I wish I were more organized for this holiday but I am not. Always seem to be flying by the seat of my pants.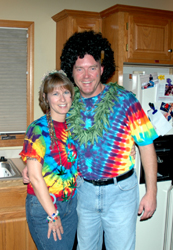 Well, I have a few costume ideas to share that I think work well for people like me. They are simple, easy to make and most can be made with items from around the house.
Take this image of my husband and I in our hippie costumes for example. This was exactly the case when I threw these outfits together. Last minute and no plans.
I think it was the day before the party and we still had nothing to wear. I went to a local shop and bought the tshirts first, then decided we needed some accessories.
Some I dug out of my drawers, like the denim tshirt ring at my waist slightly behind my right wrist. Remember those? One of my treasures that I saved from the 70's.
Others I had to buy at a local Halloween costumes shop, like the wig and marijuana necklace my husband is wearing.
You don't have to but I made a wreath for my head out of, wired ribbon, yarn and long strands of color raffia.
Going as hippies is always a great choice for last minute Halloween costumes because the items are readily available and you can just wear your jeans if you want to.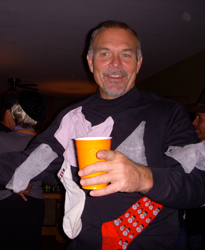 I mentioned this "Static Cling" costume on another page but it is so perfect for last minute Halloween costumes that I have to mention it again.
Our friend put together this costume so easily it is hard to believe and I cracked up when I saw him. All he did was hot glue a bunch of used dryer sheets and miscellaneous laundry pieces to an old sweatshirt.
Who doesn't have extra socks laying around their laundry room? I don't know how it happens but I have at least 20 of them right now that I can not find the match for. I think the dryer eats them.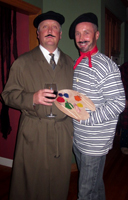 The guy on the right is married to a good friend of mine. She told me that they were invited to a French theme party so there were people in French maid costumes, probably some Napoleons.
Her husband was a French painter and the guy on the left was Inspector Clouseau. Both of these costumes are so easy to make. Trench coats, facial hair, hats, bandanas, a paint palette.
Not much to them. Definitely good choices for last minute Halloween costumes.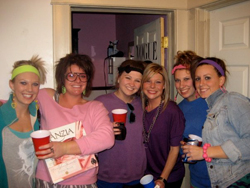 This is a photo of my daughter and her college friends in their 80s costumes.
They wore old sweatshirts (cut necks wide so one shoulder is showing), big glasses, ratted hair and headbands. Chunky jewelry adds a nice touch too.
If I were going to a party tomorrow, I could throw this one together in no time with stuff I already have.
I do not have any idea why I keep some of these things but I still have a pair of glasses that are so huge my daughter calls them my "fly glasses" because they take up my whole face and make my eyes look HUGE. I could share of picture of me in them but I won't.
More Halloween Theme Pages