Lemon Tilapia with Capers
I started making Lemon Tilapia with Capers when my kids stopped eating red meat. I was looking for an easy cooking method and found that using a poaching liquid was a sure fire way to end up with moist, flavorful fish every single time.

Lemon Tilapia with Capers Ingredients
4 Tilapia fillets, thawed (or your favorite fish)
1 cup chicken stock, not broth (I buy the kind in a box)
1 tablespoon minced garlic
2 tablespoons capers
4 thin slices of lemon
2 tablespoons butter
Place fillets in a microwave safe dish. Make a poaching liquid by mixing stock with garlic and capers. Pour over fillets. Put a slice of lemon on each fillet then dot with butter.
Cover with a wet paper towel and microwave on high 5-7 minutes until fish flakes easily. Serve with steamed vegetables and potatoes or couscous.
Note: I recommend chicken stock because it has a much deeper flavor than broth.
Orange Roughy Poaching Liquid
Another great fish option is Orange Roughy. It's very meaty and the liquid cooks it perfectly.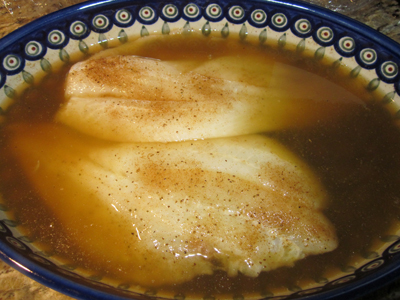 All I do is sprinkle the fish with salt and place in a microwave safe dish. Then I pour a mixture of Old Bay Seasoning (about a teaspoon) and chicken stock over the fish.
Microwave 5-7 minutes and serve.
Find more entree recipes here.