Low Calorie Cocktails
When you are watching your weight, finding low calorie cocktails can become quite a challenge. Most people try to stick with lite beer, cranberry drinks or some kind of liquor mixed with diet soda.
After awhile, most of us long for a big foo-fee drink with a couple of cherries and an umbrella! Something to spice things up once and awhile.
So how cool is it that we found a way to do both? Maintain your waistline and splurge on some fruity, low calorie cocktails every so often.
Check out these Sugarfree Mixers. They come in every variety imaginable, can be made on the rocks or frozen AND they won't break the bank.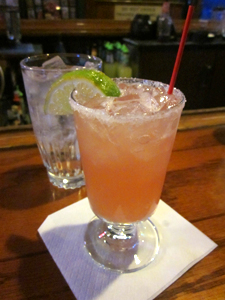 Plus they are made with Splenda. Other artifical sweeteners can have an unpleasant after taste and laxative effect. NOT what we are looking for in a low cal drink!
We haven't found anything even close in the liquor stores or supermarkets. Use them to create fruity concoctions like this Pomegranate Margarita:
1 part tequila
2 parts Baja Bob's Margarita Mix
1 part pomegranate juice
For a frozen drink, add ice and blend on high. Rim the glass with colored sugar or salt, pour and enjoy!
The links below will take you to our partner site, Baja Bob's, where you will find a great selection of recipes for low calorie cocktails.
For some additional ideas, our friends at Everyday Health have written an excellent article which includes several recipes for skinny cocktails, including a 250 calorie Pina Colada recipe, a favorite among my girlfriends.