Mango Salsa
Mango Salsa is great served as a dip, but this particular recipe also works well as an accompaniment to any meat dish, especially fish and chicken.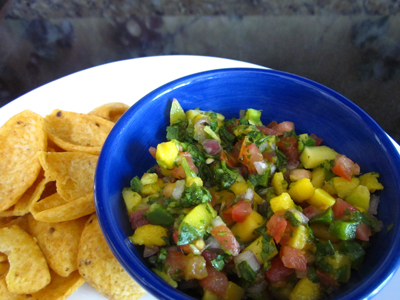 Ingredients
1-1/2 cups mangoes or peaches, peeled and diced
1 medium red pepper, seeded and finely chopped
1/4 cup shallot or red onion, finely chopped
1 jalapeno chile pepper, seeded and finely chopped
1 tablespoon olive oil
1/2 teaspoon lime peel, finely shredded
1 tablespoon lime juice
1 tablespoon vinegar
1/4 teaspoon salt
1/4 teaspoon pepper
Assorted crackers, chips or Scoops


Mix all ingredients above together and serve in a nice dish or use it to top your favorite grilled fish or chicken. If you have time, let this salsa sit for a few hours. The longer you wait, the better it will taste!
Find more of our favorite dip recipes here.
How To Cut a Mango
It is easy to waste a lot of fruit if you don't know how to cut a mango. This video from Produce Picker does a good job of showing us how to do it properly. The technique shown yields large cubes of fruit which would be perfect in salads, but for a Mango Salsa recipe, you will want to cut the pieces smaller.