Marshmallow Hazelnut Fondue
Only 3 Ingredients

(Illinois)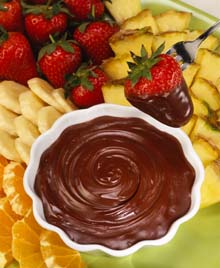 Marshmallow Hazelnut Fondue
I always seem to have leftover marshmallows. I use 1/2 a bag in a recipe and then I have 1/2 bag sitting around. They usually get hard before I can use them.

Here's a great way to get rid of them:

Marshmallow Hazelnut Fondue

1/2 bag marshmallows
1/4 cup heavy cream
1/4 cup hazelnut chocolate spread like Nutella

Combine ingredients in a heavy saucepan. Simmer on very low heat until melted. Serve in fondue pot with Rice Krispie Treats and fresh fruit.


Want To Stay In Touch With Theme Party Queen?
Here's how you do it:
Our goal is to create a community of like-minded people who like to share ideas and who are open to making new friendships. We would love for you to join us today.