Martha Stewart Cookware Reviews
by Sandee
(www.theme-party-queen.com)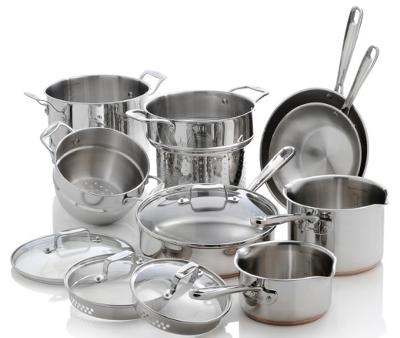 Martha Stewart Cookware Reviews: To Your Kitchen from a Name You Trust. She is one of the most recognizable names in the kitchen industry today and has taught the world how to create a beautiful home and cook delicious food. It is no wonder that many of her fans are now purchasing Martha Stewart cookware.

Martha Stewart Cookware Features

Most of the cookware on the market from her line today are pots and larger sized casserole pots. There are some sets of pots and pans that can be found through some online vendors, but if you shop directly with Martha Stewart you are offered mostly large pots designed for stew and soup or casserole dishes.

A lot of these pots and casserole pots are made from cast iron and you can find them in some great color options. You can find some stainless steel pots that look great in the modern kitchen, but there are also quite a few casserole pots that come in bright red and deep blue.

When you do find the sets of pots and pans from Martha Stewart they tend to be lighter weight, hard anodized aluminum sets with tempered glass lids.

Benefits of Martha Stewart Cookware

One of the biggest benefits of shopping for cookware with Martha Stewart is having a wider than usual selection for pot size and color options. You can find silver pots, black pots and pans, and then a variety of cast iron casserole dishes in red and blue.

The sizes allow you to purchase pots and pans for every need that comes up in your kitchen.
For some, just cooking with her pans is a major benefit. Fans of this celebrity tend to be the biggest fans of her cookware.

Bottom Line

While bringing a piece of her cookware into your kitchen may be very appealing, you have to consider the negatives along with the positives before you purchase your own Martha Stewart cookware.

The aluminum pot and pan sets from her collection good consumer reviews. They heat very evenly and last for a long time. They also have a very classic look which many reviewers tend to like.

The problems come with the stainless steel cookware from Martha Stewart. Almost all consumer reviews complain that their stainless steel pots start to rust very soon after purchase. They don't seem to have the durability that you get with the aluminum and cast iron pots from the same brand.

Martha Stewart may be loved around the world, but her cookware doesn't have the mass support that you see with many other top brands in the industry today.



Join in and write your own page! It's easy to do. How? Simply click here to return to Best Cookware Set.
Want To Stay In Touch With Theme Party Queen?
Here's how you do it:
Our goal is to create a community of like-minded people who like to share ideas and who are open to making new friendships. We would love for you to join us today.