Mexican Chicken Casserole

Mexican Chicken Casserole is one of the easiest recipes I make. I hardly ever do it the same way twice but I wrote down the recipe that I make most often so you can try it out.
I love this recipe because I almost always have all the ingredients in my fridge and pantry. When I am short on time, I can easily whip up this casserole and feed my family for a couple of nights. My kids loved it when they were little and still love it to this day.

How To Make Mexican Chicken Casserole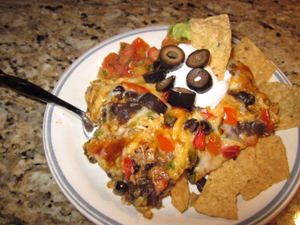 4 bone-in, skin-on chicken breast halves or 1 rotisserie chicken
Kosher salt and cracked pepper
Mexican tortilla chips, enough to cover cookie sheet or 9x13 pan
1/4 cup finely diced onion
1/2 cup each, red and green peppers
1 package taco seasoning
1/4 cup water
2-8 oz. bags cheese of choice (I like Queso and Cheddar)
Topping suggestions: sour cream, guacamole, salsa, shredded lettuce, black olives, tomato, red pepper, black beans, poblano peppers
Prepare Chicken
If using a rotisserie chicken, pick chicken and discard skin and bones.
If using chicken breast halves, preheat oven to 375 degrees. Place chicken on a cookie sheet and spray with cooking oil. Sprinkle evenly with kosher salt and fresh ground black pepper. Bake 40 minutes or until skin is browned.
When it is cool enough to handle, remove skin and bones and shred chicken with fingers.
Prepare Topping
In a skillet, saute onion and peppers until crisp-tender. Add shredded chicken, taco seasoning and water. Simmer 15 minutes or until water is absorbed.
Lay tortilla chips in bottom of pan. Sprinkle 8 oz. cheese over tortilla chips. Next, spread chicken mixture over chips and cheese. Sprinkle 2nd 8 oz bag of cheese over chicken mixture and top with favorite ingredients. We like black olives, green onion and tomato.
Bake Mexican Chicken Casserole for 20-30 minutes until cheese is completely melted. Serve with sour creamServes 4-6.
Substitute the taco seasoning and water for a can of enchilada sauce to make a super easy chicken enchilada casserole.
Click here for more easy Mexican Recipes.