Mocha Cinnamon Fondue
This recipe for Mocha Cinnamon Fondue is an outstanding choice for your fondue party. Try serving it with one of these Cocktails With Kahlua. I especially like the espresso martini recipe and think it complements this fondue perfectly.
Ingredients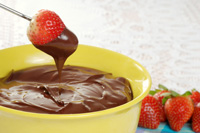 3 cups (18 oz.) milk chocolate chips
1/2 cup whipping cream
1 tablespoon instant coffee granules
2 tablespoons hot water
1 teaspoon vanilla extract
1/8 teaspoon cinnamon
Dippers including pound cake, strawberries, pretzels
In a heavy saucepan, melt chocolate with cream over low heat, stirring constantly. Dissolve coffee in hot water.
Add to chocolate mixture with vanilla extract and cinnamon. Mix well. Pour into a fondue pot set to low. Serve warm with dippers.
Visit our Fondue Theme Party page for more information, including how to make fondue, more easy recipes and our top rated fondue pots and chocolate fountain recommendations.