Pizza Mummies
Great For School Parties

Kids will love this recipe for pizza mummies. Make a batch for a school party and give them something a little bit healthier than the usual sugary snacks.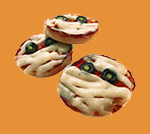 English muffins
Pizza sauce
Black olives
Scallions
Red or green pepper
Cheese sticks or slices
Preheat broiler for 10 minutes. Separate English muffins into halves and lay on a baking sheet. Broil on top shelf for 1-2 minutes per side to crisp them up a bit. Remove sheet and then set oven to 350 degrees.
Spread a tablespoon of pizza sauce onto each English muffin half. Set olive slices in place for eyes and add round slices of green onion or bits of red or green pepper for pupils.
Lay strips of cheese across the muffins to make mummy wrappings being careful not to cover up the eyes. Bake for about 5 or 10 minutes or until the cheese is melted and the muffin is toasty.
Click here for more party recipes.