Potato Leek Soup
This recipe for potato leek soup is one of the easiest vegetarian soup recipes that I make. The leeks provide a slight oniony flavor without being overpowering.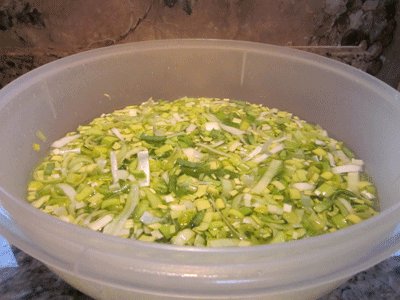 Ingredients
2 leeks, sliced
2 sticks butter (1 cup)
1 quart chicken broth (or vegetable)
1 tablespoon cornstarch
4 cups Yukon Gold potatoes, peeled and diced
2 cups heavy cream
Salt and pepper to taste
Fill a large bowl with warm water and place sliced leeks in the water as shown above. Swish around with your hands and then allow leeks to float in water for 10 minutes. Silt will sink to the bottom.
Carefully remove leeks from water without disturbing silt in the bottom of the bowl. Rinse leeks in a colander.
In a large pot over medium heat, melt butter. Cook leeks in butter until tender, stirring frequently, about 15 minutes.
Stir cornstarch into broth and pour broth into pot. Add the potatoes and bring to a boil. Reduce heat and cook about 30 minutes until potatoes are tender.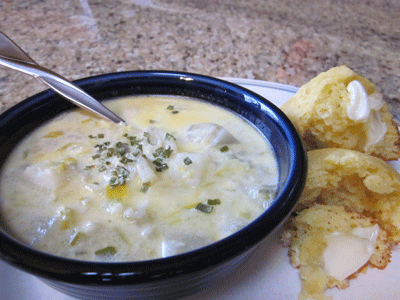 Pour in the cream, and gently simmer an additional 5 minutes until heated through. Don't boil or the cream will separate! Season the potato leek soup with salt and pepper before serving.
Serves 8.
Click here for more easy vegetarian soup recipes.