Pumpkin Chocolate Chip Bread
I had this recipe for Pumpkin Chocolate Chip Bread the first time at a neighborhood coffee. I loved it so much, I asked for the recipe and then altered it to make a larger quantity.

This recipe is perfect for parties because it makes 2 large loaves and 2 smaller loaves or 6 small loaves.
Looking for Pumpkin Muffin Recipes? The beauty of this recipe is that it can be made into loaves or muffins. Just cut down on the baking time. Sometimes I will split the batter into loaves and muffins so I have some of both.
Wet Ingredients
1-28 oz. can (about 3 cups) canned pumpkin puree
1 1/2 cups vegetable oil
4 cups white sugar
6 eggs
Dry Ingredients
4 3/4 cups all-purpose flour
1 1/2 teaspoons baking powder
1 1/2 teaspoons baking soda
1 1/2 teaspoons salt
2 teaspoons ground cinnamon
1 teaspoons ground nutmeg
1 teaspoons ground cloves
1 cup chocolate chips (I use mini chips)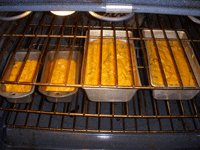 Preheat the oven to 350 degrees. Grease two 9x5 inch loaf pans and 2 mini loaf pans (or 3 large or 6 minis).
In a large bowl, mix together the pumpkin, oil, sugar, and eggs.
Combine the flour, baking powder, baking soda, salt, cinnamon, nutmeg, and cloves. Reserve 2 tablespoons of the flour mixture.
Gradually add remaining dry mixture to pumpkin mixture until well combined.
To keep the chocolate chips from sinking to the bottom of the loaves when baking, toss the chocolate chips in the reserved flour mixture before gently stirring into the batter.
Divide the batter evenly between the 3 prepared pans. Bake in preheated oven for 60 to 70 minutes. The top of the loaves should spring back when lightly pressed.
This Pumpkin Chocolate Chip Bread is so good served with honey butter. To make it, take 1/2 stick of softened butter and about 2 tablespoons of honey and blend together.
Click here for more Quick Bread Recipes.