Pumpkin Wild Rice Soup
Courtesy: Pillsbury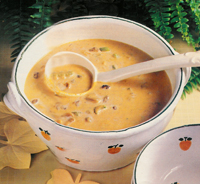 As soon as the weather starts getting cold, I am usually searching for pumpkin recipes. And vegetarian soup recipes too because both my grown children are vegetarians.
Well I recently came across this Pumpkin Wild Rice Soup in an old cookbook. Pumpkin and soup in one recipe and it can be made vegetarian! Perfect.

Vegetarian Soup Recipes - Pumpkin Wild Rice Soup
16 oz. can pumpkin (not pie filling)
2 cups water
3 chicken bouillon cubes (or vegetable)
1/2 tsp salt
1/8 tsp cinnamon
1/4 tsp nutmeg
Dash pepper
1 cup raisins
1 box Uncle Ben's Original Recipe cooked as directed on box



2 tbs. butter
1/2 cup chopped celery
1/2 cup chopped onion
1/2 cup chopped mushrooms
2 cups half-and-half
In a large saucepan, combine pumpkin and water; mix well. Stir in bouillon cubes, salt, cinnamon, nutmeg and pepper.
Heat until bouillon cubes dissolve. Add raisins and rice; simmer.
In skillet, melt butter. Saute mushrooms, celery and onion until crisp-tender. Stir vegetables into pumpkin mixture; simmer until hot and flavors have blended about, 15 minutes.
Add cream, gently warm up and ladle into bowls. This wild rice soup thickens as it stands. Makes 10-1 cup servings.
As pumpkin recipes go, this one is unique. A spicy, hearty vegetarian soup recipe with interesting flavor combinations. Try it and see what you think.
NOTE: I just made a batch of this soup and had some for lunch. I forgot how truly wonderful it is! It was a little bit too thick for me so I added some water but the flavor is outstanding.
Click here for more easy vegetarian soup recipes.