Recipe For Cookies
Huge Quantity - Perfect For Parties

A couple of years ago, I went to a holiday party and one of my friend's brought these cute little treats that everybody gravitated toward.
When she told me her recipe for cookies, I could not believe it was so simple. My ears really perked up when she said that each batch makes 48 treats and you use mini muffin tins to make them.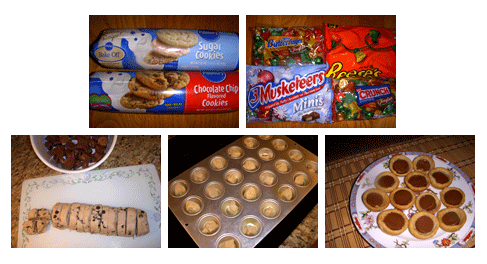 When I am looking for a recipe for a party, I always look for ones that make a large quantity. For cookies, I am usually looking for bars that can be made in a jelly roll pan or for something that makes several, easy-to-pick-up morsels. So imagine my delight when I heard about this one.
Recipe For Cookies - Only 2 Ingredients!

Ingredients
1 tube of Pillsbury cookie dough
48 pieces of candy, the size of small Reeses Peanut Butter cups
Preheat oven to the temperature on the cookie dough package, usually 350 degrees.
On a cutting board, slice the roll of cookie dough into 12 equally sized slices then slice each one into quarters. You should end up with 48 pieces of cookie dough (12 slices times 4 quarters each).
You may have to make these in multiple batches if you don't have enough mini muffins tins. I can only do 24 at a time. Either spray the pans with non-stick spray or use paper muffin tin liners to match your theme. When I made these for the Christmas holiday, I used gold and red muffins tin liners.
Place one piece of cookie dough in each muffin hole. Cookies will have a very thin border of crisp, cookie around the candy. If you are not using muffin papers, this thin layer will make it difficult to remove from the pan unless they are completely cool. If you want the border to be thicker use 1/2 of a slice instead of 1/4 and bake longer.
Bake cookie dough 7 to 9 minutes until almost done. Remove from oven, gently press one piece of candy into the center of each cookie and re-bake for an additional 2 to 3 minutes.
Cool completely in pan, then pop them out using a sharp knife. This recipe for cookies will soon become a favorite because it makes tasty cookies and is so easy. I make them all the time just switching up the ingredients.
Helpful Tip: I buy several rolls of dough when they are on sale and keep them in the freezer so I can whip up a batch at a moment's notice.
Variations
You can come up with endless combinations with this recipe for cookies. When I made the cookies in the photos above, I used 2 rolls of dough, one sugar and the other chocolate chip. Then I bought a variety of chocolate candies and ended up with 96 cookies, all different combinations.
Here are a few combinations for you to consider.
Sugar cookie dough with Reese's Peanut Cups
Peanut butter cookie dough with Rolos
Chocolate chip cookie dough with York Peppermint Patties (cut small)
Sugar cookie dough with 2 Brach's Maple Goodies in each
Peanut butter cookie dough with 5 cinnamon chips in each
Another option is the use other brand cookie dough. I just bought some tubs of dark chocolate and macadamia nut flavors from a neighborhood kid who was selling them for choir. Once you get the hang of how much dough you need from using rolls of dough, venture out and use other flavors and see what you can come up with.
Click here for more Dessert Recipes.