Recipe For Fruit Scones
I got this recipe for fruit scones from a cute little shop in my hometown. They have become legendary around this area.
The beauty of this recipe is that you can make it with all sorts of dried fruit. They are shown here with dried cherries, but you could use any kind of fruit you desire.
You can also add nuts or flavored chips like white chocolate or cinnamon chips. As long as the fruit, nuts and chips adds up to 1 cup, you can combine them however you want.
Ingredients - Makes 12
2 cups biscuit mix (I like Bisquick)
1/2 cup sour cream
1/4 cup oil (I use Canola)
1 cup dried cherries, apricots, cranberries, chips or whatever
1 egg, lightly beaten
Milk
Sugar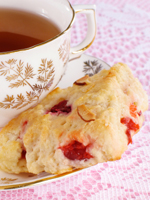 Preheat oven to 425 degrees.
Gently mix all above. Place dough on floured surface. Knead gently. Shape into 2(5 to 6 inch) circles mounded slightly in the center.
Operative word here is "gently" because if you mix or knead too much, your fruit scones will be dense and hard instead of light and crumbly.
Brush with milk. Sprinkle with sugar and cut into pie shaped pieces.
Place on ungreased cookie sheet and bake for 10 to 12 minutes until lightly browned. Do not overbake.
This recipe is so versatile. My favorite combination is dried cherries and white chocolate chips. Fantastic with a cup of creamy coffee on a Sunday morning!
Scones are perfect for more sophisticated palettes because they are not as sweet as pastries. Visit my friend Marcia's website for more delicious scone recipes and our tea time page for party punches and finger sandwiches.