Roasted Asparagus
Whenever I'm looking for an easy side dish recipe, Roasted Asparagus is usually at the top of my list. It's impossible to mess it up and almost everyone loves it.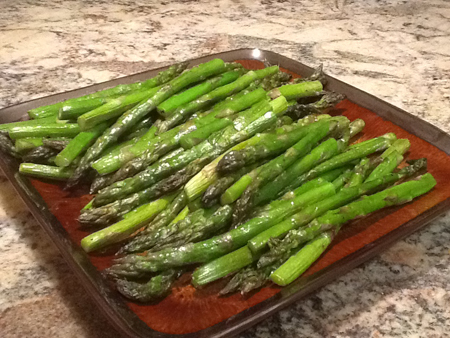 Ingredients
2 large bunches of asparagus
1/4 cup canola oil
Kosher salt and fresh cracked black
Preheat oven to 400 degrees.
Slowly bend one asparagus spear in half to see where it natually breaks. This tells you where to cut the rest of the bunch so that you can discard the woody ends (usually about the bottom 3 inches or so).
Lay the trimmed spears on a baking sheet. Drizzle with canola oil and generously sprinkle with salt and pepper.
Roast for 15 minutes until crisp-tender. Serves 3-4 people.
Roasted Asparagus with Proscuitto Appetizer
If you like asparagus, this video from Foodwishes.com shows us how to make an easy appetizer with only 2 ingredients. Chef John uses the woody end of the asparagus as a handle rather than cut it off. Good idea. Lots of other fantastic recipes can be found at this site.
For other side dish recipes including my Grandma's Dilled Carrots, visit our party recipes page.