Roasted Red Pepper Soup
This Roasted Red Pepper Soup recipe is packed with flavor and perfect for company. You can either serve it chunky or you can process it for a smoother consistency like I do.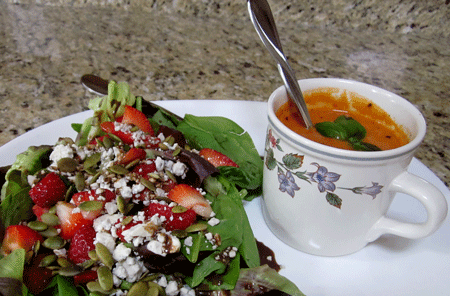 Ingredients
4 medium sweet onions, finely chopped (I like Vidalias)
4 tablespoons butter
2 tablespoons chili powder
4 teaspoons cumin
6 cups corn
2 large red bell pepper
2 quarts chicken broth
2-15 oz. cans diced tomatoes
2 poblano peppers, finely chopped
2-8 oz. packages cream cheese, softened
4 tablespoons cilantro, finely chopped


Preheat oven to 400 degrees.
Place whole red peppers and corn kernels on a cookie sheet. Roast in the oven for approximately 20 minutes turning periodically. When cool enough to handle, seed and chop red peppers.
Saute onions in butter until soft. Add chili powder, cumin, roasted corn and red peppers. Stir for 1 minute. Add broth, tomatoes and poblanos. Bring to a boil, then remove from heat.
Using an electric mixer, mix the cream cream cheese until smooth. Begin to add small amount of the warm soup (2-3 cups) to the cream cheese until the cream cheese is of sauce consistency. This will make it easier to incorporate into the soup.
Add the cream cheese to the pot of hot Roasted Red Pepper Soup and stir well to combine. Serve immediately.
Serves 8.