Ruth and Svend's New Year Fondue
by Anne Kjaer
(New Zealand)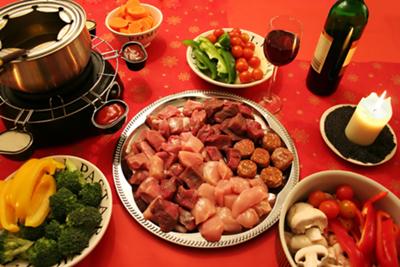 Fondue Dipping Sauce Recipes
My mum made these fondue dipping sauce recipes every year for new year when I was young in Denmark..very hip:-) They were served with an oil fondue using beef and cocktail sausages as meat.

Fondue Dipping Sauce Recipes

Mix 1-1/2 cup of sour cream ( or greek yogurt) with 1-1/2 cup of real mayonaise. Split in 3 portions.

Garlic Sauce - Add salt , pepper and a clove of crushed garlic (or more if you like).

Devils Sauce - Tabasco or chili, tomato puree, paprika, salt, pepper to taste.

Curry Sauce - Add a teaspoon or more of curry powder, 1/2 teasp. sugar, pepper and salt.
Refrigerate the 3 sauces 12-24 hours.

The meat and sauces would be accompanied by bowls of: small boiled potatoes, corn, peas, olives, capsicums, capers, raw mushrooms, gherkins, lettuce, cherry tomatoes, fresh bread...anything you can think of which can be mixed, dipped or cooked. Love and miss you mum and dad :-)

TPQ Comment: Thanks so much for contributing this Anne. I love these fondue dipping sauce recipes, especially the curry. LOVE curry sauces!

Find out How To Host A Fondue Party here.
Our goal is to create a community of like-minded people who like to share ideas and who are open to making new friendships. We would love for you to join us today.