Scavenger Hunt For Kids
A scavenger hunt for kids can turn an ordinary birthday party into something more unique and memorable. Or, you can use the hunt to entertain children on those long days when the weather prevents them from going outside to play.
You may even want to throw a larger scale scavenger hunt for your children and all their friends (or the neighborhood children) for no reason at all other than pure fun.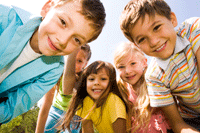 The rules for a hunt are very simple. There are certain items that are hidden ahead of time and the children are sent out to find them.
The only real rules are that everyone should have a list of the items to be found and should be well aware of the boundaries in which the items are hidden. This gives a fair playing field for everyone to get out there and scavenge for the prize.
Once you decide to host a scavenger hunt for kids, the process of putting it all together is rather simple.
Theme
Decide the theme of the hunt and create a list of items that can be hidden. Get all of the items together as you create the list so you know that everything you put down can really be obtained and hidden.
Location
Decide the location of the hunt. You will need enough space for all of the children invited to run around and actively hunt. There should also be creative opportunities to hide the objects on the scavenger list. Keep the ages of the children coming to your hunt in mind so you can hide items where everyone will find something.
Players
Determine how many children to invite to your scavenger hunt for kids. Adjust the number of items on your list to make sure there is enough to go around for everyone.
Prizes
Determine prizes and how they will be awarded. You might have one big prize that all the children want to earn or there could be multiple smaller prizes that can be given out to the top hunters at the end of the event.
Other Activities
Decide what time of day your hunt will be held and what other activities you will offer. You can make your scavenger hunt for kids the highlight of the event or you can make it just one event among many.
This will determine how large the event needs to be and how many prizes you want to give out in the end.
Planning a scavenger hunt for children is much like planning any other party for the littlest members of the family. You just have a bit more flexibility because you can hide absolutely anything you want and you can hold the event indoors or out.
Try to come up with a creative theme for the overall party and then hide items that relate directly to that theme. If you end up spending a lot of money on the actual items to hide, then those items can turn into the prizes with everyone keeping what they find.