Tailgating Fun

(Iowa City)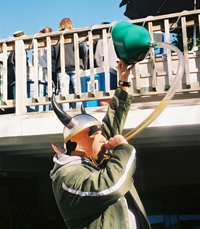 Beer Bong Viking Man
My son went to the University of Iowa for his first 2 years of college. We went to Michigan State so when these teams played each other, we had a serious tailgate party before and after the game.

We found the perfect place to park just outside the Iowa stadium, had hot dogs and burgers, drinks and snacks, threw a football around and generally had an awesome time ribbing each other about who was going to win the game.

MSU got their butts kicked that day but we still had a blast, both kids and adults.

The guy in this picture was tailgating next to us doing beer bongs at 9:00 in the morning. He passed out and never made it to the game. Silly boy.

Join in and write your own page! It's easy to do. How? Simply click here to return to Football Party Ideas.
Want To Stay In Touch With Theme Party Queen?
Here's how you do it:
Our goal is to create a community of like-minded people who like to share ideas and who are open to making new friendships. We would love for you to join us today.