The Vision Board Theme Party
by Bonnie Bruderer
(Worldwide)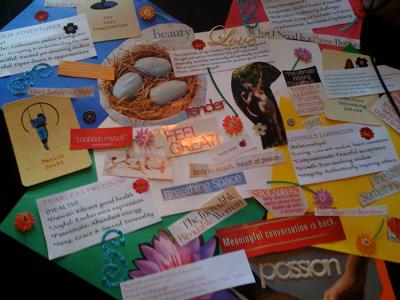 What will be on YOUR vision board?
Grab your girlfriends, some bubbly and get ready to have the party of your life.

Vision Board Parties are a craze that is sweeping the nation.

For 1.5 hours your guest will be entertained and empowered, as they learn:
*How to create a "soul sentence" for their life
*How to determine which areas they are "stuck" in
*Strategies to close the gap from where they are right now, to where they need to be
*How to use the "remember forward" technique to get what they want
*How to build a vision board that works

Visit: www.VISSnow.com to register for your Vision Board Experience

TPQ Comment: Bonnie, I have created vision boards in the past but never as part of a group with an instructor. Sounds like a fun thing to do for a Ladies Night In theme party. Thanks for contributing.
Join in and write your own page! It's easy to do. How? Simply click here to return to Ideas for Women Parties.
Want To Stay In Touch With Theme Party Queen?
Here's how you do it:
Our goal is to create a community of like-minded people who like to share ideas and who are open to making new friendships. We would love for you to join us today.