Theme Party Cookware
I have all kinds of theme party cookware that I use regularly. One of my favorite pieces is my flat grill pan that I use mostly in the winter months when I can't get outside to use my big grill.
I started out using it only for grilling meats but eventually I started grilling veggies on it too. One of our favorite dishes that I make on our grill pan is chicken fajitas. Even though mine is a nonstick flat grill pan for two burners, I still have to spray it really well with a cooking spray or food will stick and it is a pain to clean.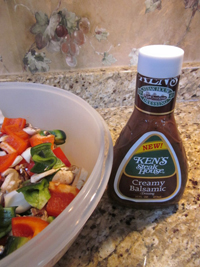 To make the fajitas, I marinate the chicken strips for a few hours in a fajita marinade, then grill them for maybe 5 minutes on high heat. Remove from the flat grill pan and then quickly grill the veggies. We like mushrooms, poblano peppers, Vidalia onions and red peppers that have been marinated in a balsamic dressing like Ken's Creamy Balsamic Dressing.
Don't overcook the veggies. You want them to be crisp-tender so take them off the grill pan after about 7 minutes, max.
I have a glass stove top so I had to be very careful when choosing a flat grill pan. Make sure that you buy the kind of grill pan that is suitable for the type of cooktop you have. Some cookware will scratch the surface and/or get too hot if you are not careful.
The other thing to watch out for is how heavy it is. You want food to cook evenly so look for a flat grill pan with a heavy, aluminum core, like the All Clad Double Burner Grill Pan below. This is not the exact same model I have, but it is close.
Grill pans are one of those cookware products where you get what you pay for. If you want a quality pan, plan on spending at least $75. Anything less is going to slide all over your cooktop and will most likely burn food easily.
Favorite Cookware