Tiny Party Meatballs
Perfect For a Crockpot

Rather than serve full size meatballs, this recipe for Tiny Party Meatballs is perfect for your at home parties.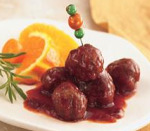 They are easy to make because the meatballs are baked rather than fried. Make huge quantities by doubling or tripling this recipe.
Choose a sauce depending on the type of party you are hosting. Use one of our recipes below or one of your own. Even bottled sauces go well with this simple meatball recipe.
For The Meatballs
2 slices bread
1/4 cup milk
1 lb. ground chuck
1 medium onion, finely chopped
Salt and pepper to taste
Garlic salt
2 eggs
1/4 Parmesan cheese
Moisten bread with milk and mash with a fork. Mix in all other ingredients. Shape into 1 inch balls by rolling in the palm of your hands.
Bake in 350 degree oven, about 20 minutes. Makes 36 meatballs.
Sauce Ideas
A couple of hours before party time, place cooked meatballs in a Crockpot on low. Cover with sauce of choice.
To make any of these sauces, just whisk the ingredients together in a small bowl and pour over the meatballs. No need to cook unless noted. Adjust the quantities as required for the number of meatballs.
Chili Sauce

- 1 bottle chili sauce, 1 small jar grape jelly




Sweet Asian BBQ sauce

- Mix together 3/4 c. white sugar, 1/2 c. rice vinegar, 1/4 c. ketchup, 2 T. soy sauce, 2 T. minced fresh ginger, 1 T. cornstarch and 2 cloves minced garlic together in a saucepan over medium-high heat until mixture boils and thickens slightly.




Creamy Dill Sauce

- Melt 1/2 cup butter in a large saucepan over low heat. Stir in 1/4 c. flour. Gradually stir in the 2 c. chicken broth until thickened and bubbly, then blend in 2 c. sour cream and 1/4 c. fresh dill.




Teriyaki Sauce

- 2/3 cup soy sauce, 1/4 cup cooking sherry, 2 T. white sugar, 1 t. ginger, and 1 clove minced garlic




Thai Peanut Sauce

- 1/2 cup chicken broth, 1/2 cup peanut butter, 1/2 cup hoisin sauce, 2 teaspoons minced fresh ginger, 2 teaspoons minced garlic
Any one of these sauces go great with Tiny Party Meatballs.
Authentic Italian Meatballs
Want to learn how to make meatballs the way the Italians do? Check out my friend's recipe for Authentic Italian Meatballs. She owns an olive grove in Italy so she knows her stuff!