Unique Halloween Costumes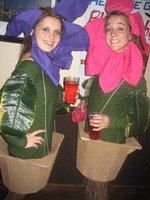 These unique Halloween costumes are pots of flowers made out of upside down paper pots that have their bottoms cut out. I have seen these kinds of paper pots used to prevent frost from getting on plants late in the season.
When I first saw them I thought they were construction cones that were cut and spray painted. You could also do the pots using upside down lampshades.
They attached string so they would hang loosely. To make the flower head piece, they used hangers or pipe cleaners, felt and iron on adhesive (aka Witch Stitchery).
Next they hot glued strings to their nylons to look like roots. To finish it off, they attached fake leaves to long sleeved green shirts.
These would make great Halloween costumes for groups. You could do a whole garden of people! So unique.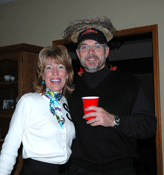 The year after their youngest kid moved out of the house, some friends of ours went as empty nesters, one of the most unique Halloween costumes I have ever seen.
Look at the guy on the right. You can see that he attached 2 little red birds (found at a craft store) to the shoulders of a black shirt. They have 2 kids so needed two birds.
Then they found some material to make a nest out of, like that moss stuff you put in artificial flower arrangements. They wound it around and around to form a nest and attached it to a straw hat.
It was so funny watching people at the party approach them and try to figure out what they were. They kept saying "Can you guess what we are?"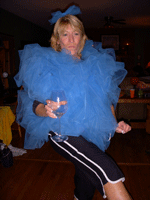 This friend was a scrubby thing you use in the shower. She found blue tulle at a fabric store and hot glued it to a black turtleneck.
Then she attached a white piece of rope, which is dangling near her left hand, so it look like the hanger. She finished the costume with a blue tulle bow in her hair.
I would say this one qualifies for one of the most unique Halloween costumes I've seen in a long time. She told me that several people borrowed the costume after she wore it.
Easy to make and inexpensive too.
The girl second from the right is a long time family friend. She and her college friends went to a "You can wear anything but clothes" party.
All of these unique Halloween costumes were made out of random things found around the house. The guy on the left made a suit out of duct tape and aluminum foil, I think.
The girl next to him made a dress out of shopping bags and the other guy made a costume out of beer cases and garbage bags.
The one our friend made takes the prize for being the most unique, I think. She used only strips of duct tape, cards and string. She even made a fan! Nicely done folks.
More Halloween Theme Pages