Wine Tasting Cards
And Other Party Goodies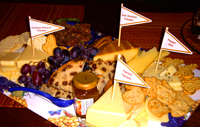 If you are hosting a Wine Tasting Party, you will need Wine Tasting Cards.
You can either buy them, or you can receive them ABSOLUTELY FREE along with all sorts of other party goodies.
Fill out the form below and you will immediately receive a free 7 page ebook called "Wine Tasting Party Essentials" which includes:
Wine Tasting Cards--For your next Wine Tasting Party, fill in the wines you have chosen on this scorecard, then copy it on cardstock. Give one to each guest and ask them to score the wines as they move from table to table.
A Wine-Cheese Pairing Table--This one sheet table lists wine by category (lighter white, full-bodied red...) and gives you ideas for meat, cheese and accompaniments to serve with your wine choices.
Triangle Cheese Picks--Two sheets of colored triangles with the most common cheese names already printed on them. All you have to do is print the sheets on cardstock, cut out the triangles, adhere them to bamboo skewers or toothpicks and stick them into your cheese blocks. Use them over and over again. These nifty little name picks complete the look of your cheese platters.
Spiced Nuts Recipe--Any decent cheese platter includes some kind of nut. Sugared Spiced Nuts are very expensive to buy but you can make a huge quantity very easily with this recipe. Keep them in the refrigerator for weeks and they will be ready when you are.
PLUS:
Party Queen Ezine--A free subscription to our newsletter which is filled with all sorts of party ideas and new recipes for you to try, periodically delivered directly to your email in box.
Very Important: After completing the form below, you will receive an email asking you to confirm the address given just to be sure someone did not submit your email address without your knowledge. Upon confirmation, you will receive a link to download the ebook.