Zucchini Date Bread
I have experimented quite a bit with this Zucchini Date Bread recipe over the years. I finally got it just the way I like it. It is moist and flavorful especially if you like chocolate chip zucchini bread.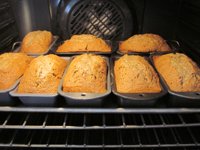 The best thing about this quick bread recipe is that it makes ALOT. I love making a batch and keeping mini loaves in my freezer so I can pull them out whenever I need them.
The other thing that I love about this recipe is that I make it different just about everytime by adding different mixins.
My husband is a fan of dates, lots of dates, so I use them alot but I am a fan of mini chocolate chips so I use those sometimes too. I have also made this recipe with butterscotch chips which is also excellent.
You don't have to add dates or chocolate chips and this recipe is still yummy.

Wet Ingredients
6 eggs
4 cups sugar
2-1/2 cups oil (I use Canola)
4 teaspoons vanilla
4 cups grated zucchini (loosely packed)
Dry Ingredients
5-1/2 cups flour
2 teaspoons ground cinnamon
1 teaspoons ground nutmeg
1/2 teaspoon ground cloves
2 teaspoons baking soda
1 teaspoon baking powder
2 teaspoons salt
Best Zucchini Bread Recipe Mix Ins
1 cup (or to taste) chopped dates, chocolate chips or nuts (or a combination!)
Preheat oven to 350 degrees. Spray loaf pans. You can get 8 minis out of this recipe or 2 large and 2 minis.
Mix eggs until frothy. Gradually add sugar, oil, vanilla. Beat until thick and lemon colored. Stir in zucchini.
In a medium bowl, whisk together flour, cinnamon, nutmeg, cloves, baking soda, baking powder and salt. Reserve 2 tablespoons of the flour mixture. Stir remaining dry mixture into wet mixture.
To keep the mix ins from sinking to the bottom of the loaves when baking, toss them in the reserved flour mixture before gently stirring into the batter.
Pour batter into pans and bake for 40 minutes for minutes and 60-70 minutes for large pans or until tops spring back. Cool on wire rack and then remove from pans.
Try serving this Zucchini Date Bread with honey butter. To make it, take 1/2 stick of softened butter and about 2 tablespoons of honey and blend together.
Click here for more easy Brunch Recipes.