50th Birthday Party Theme
The 50th birthday party theme is one which is often surrounded by jokes and reflection. It provides a chance to look back on half a century of living, taking in all the achievements and all the low points. However, for many people it can also be a big reminder or mortality, a fact that provides a lot of ammunition for fans of dark humor.
50th Birthday Party Theme - Decorations
Of course every birthday party usually has some kind of cake, but for a 50th birthday party theme, how about having a casket shaped cake instead of the typical colorful cake like the one shown here? Not only is it yummy but it is a great decoration for your buffet table.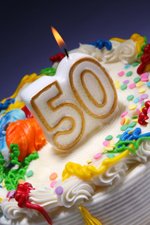 The funeral theme is popular for 50th birthday parties because the implication is that after 50, life is just a downward spiral to death. For those of us who are in our 50s, we know that is not the case, but it is still a fun theme for the honoree and all who attend. Usually.
Reserve this theme for people with a decent sense of humor and particularly the ability to laugh at themselves.
You can get creative with this. Traditional ideas include blacking out the walls with cloth or paper and painting a graveyard on top. If the party is at your house, you can dress up as a funeral director or bring out the cake dressed as Death.
Of course, the dark humor angle does not appeal to everyone. There are much more light-hearted approaches to a 50th birthday, like dressing up in the style of your younger days or choosing a theme based around a memorable vacation the birthday person took.
50th Birthday Party Theme - Activities and Games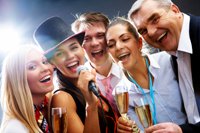 Karaoke is a fun activity for a 50th because it appeals to all ages, from kids through to the elderly. The best part about karaoke is that no one is expected to be any good, so everyone can get involved and let loose.
The funeral theme allows for a few activities. You can even go as far as to have the cake in a casket and have it carried out by the birthday person's closest friends and family.
Other activities can be thought up in accordance with the party's theme, but a 50th should involve a chance to reminisce about the highlights of the person's life so far (again at a funeral themed party this can be done in the form of mock eulogies). You can have an open forum for speeches where friends and family can say a few words about their experiences of the person over the years.
50th Birthday Party Theme - Food and Drink Ideas
For a smaller party, a candlelit dinner can be an excellent way to see in the new decade. I recently attended a 50th birthday party celebration for one of my best friends. Her husband organized and executed the whole evening and I was so impressed! Here is what he did:
He invited 5 of her best friends, hand addressing the invitations.
When we arrived, he offered us a "signature cocktail" which was a Pomegranate Martini. As we sipped our martinis in the living room, he served a baked brie appetizer with apple and pear slices.
Then we moved into the dining room where he had set a beautiful table with wine glasses, linens and white candles
First he served Lobster Bisque, a fancy salad like this Carmelized Apple Onion Salad and some warm cheddar biscuits.
For the main course, he served pork tenderloin, roasted asparagus and roasted new potatoes.
The whole time, the guest of honor did not move from the table. Her husband ran his buns off the entire night. We never ran out of wine and he removed and served plates as fast as a waiter in a 5 star restaurant!
To top off the night, we moved into the family room, and while she was opening gifts, he was slicing up a chocolate ganache cake which he served with raspberries, whipped cream and coffee. His wife, the honoree, never lifted a finger.
He was so sweet to plan and execute such a wonderful evening for his 50 year old wife and her best friends. The lucky 50 year old with the thoughtful husband is the one in the middle above. I am to her right.
Wine and cheese tasting-style eating arrangements are also perfect for a 50th birthday, as this is the age many people think of as being the beginning of a true enjoyment for the "finer things in life." If you can afford it, hire a company to do a wine tasting and offer guests cheese platters filled with great appetizers.
Learn more about wine tasting parties here.
Final Tips for Hosting
A 50th birthday is largely about reflecting on the highlights of life so far and preparing for more good times to come. If you can think of a unique way of decorating the house, or a unique style of food that reflects an event in the person's life, make sure you include it. These things add a special flavor to a party and make it more memorable.