Balsamic Roasted Vegetables
I love making Balsamic Roasted Vegetables. You can either buy your favorite bottled dressing or make the one below and toss the vegetables in it. Roasting vegetables brings out their natural sweetness, so much so, that even kids will eat them!
Ingredients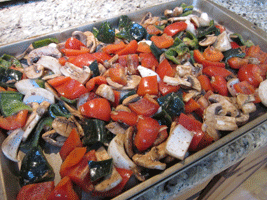 1 large sweet onion, chopped into large pieces
2 red peppers, chopped
1 green pepper, chopped
2 small zucchinis, sliced
8 oz. of sliced mushrooms
Other ideas for roasted vegetables - poblano peppers, baby carrots, eggplant
For the Dressing
1/2 cup oil (I use Canola)
4-6 tablespoons of Balsamic, to taste
4 tablespoons of sugar or more if you like it sweeter
Preheat oven to 400 degrees. Whisk balsamic, oil and sugar or in a food processer until well blended. Pour over chopped vegetables and mix well.
To help with clean up, line 2 baking sheets and spray with Pam. Pour vegetables onto baking sheets and roast for 20-25 minutes until onion is translucent and slightly browned.
I love serving roasted vegetables with all sorts of main dishes including Cheez It Salmon. Roasted vegetables go so well as a side for almost any dish you can think of.
How to Roast Root Vegetables
In addition to roasting softer vegetables like onion and mushroom, I also love to roast root vegetables for the same reason; roasting brings out the natural sweetness and is a healthier way to prepare vegetables.
All you do is choose a variety of root vegetables like potatoes, carrots and parsnips, toss them with olive oil, salt and pepper and roast them on a cookie sheet at 400 degrees for 40 minutes.
Giada from The Food Network, shows you exactly how to do it in this video.