Beer Cheese Dip - Only 4 Ingredients

(Illinois)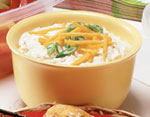 Beer Cheese Dip
Here is one of the easiest tailgating recipes you are ever going to find. My friend Georgia's Beer Cheese:

2 packages softened cream cheese
2 cups shredded cheese (I like mild Cheddar)
1 package Ranch dressing mix
12 oz. can of beer

Combine first 3 ingredients and mix well. Add beer until mixture becomes dipping consistency (usually about 1/2 can).

Serve with pretzels. Yum!
Want To Stay In Touch With Theme Party Queen?
Here's how you do it:
Our goal is to create a community of like-minded people who like to share ideas and who are open to making new friendships. We would love for you to join us today.