Football Appetizers Snacks
Share Your Favorite Football Recipes

At almost every football party I have attended or hosted, there is always some sort of chili being served and usually a layered taco dip.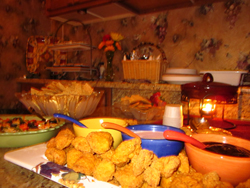 These are great stand bys of course, but those old recipes are kind of tired, aren't they? I think it's time we came up with some new ones.
Share with us, if you will, a new recipe that you have recently tried at a football event or any other sports theme party.
For football parties and tailgating, we especially like the simple recipes. Ones that guys, like my recipe-challenged husband, find easy to make.
If you are hosting a football party and are looking for some ideas, don't forget to check out our Super Bowl Party webpage where you will find the history of the Super Bowl, a free football pool sheet and ideas for games and homemade football invitations. You will also find several more of my favorite football appetizers and snacks.
Have a Great Football Appetizer or Snack?
We are looking for new, easy-to-make football appetizers and snacks. Please save us from serving the same old tired recipes and give us something new to try!


What Other Football Fans Have Said
New football appetizers and snacks start here...