Benedictine
What is Benedictine you ask? Simply put, it is a dip that is usually made into finger sandwiches. A restaurant called Benedicts, located in Louisville, Kentucky, is responsible for creating this Kentucky Derby favorite.

These finger sandwiches are perfect for a Kentucky Derby party of course, but they are also perfect for ladies parties like wedding showers and afternoon tea parties.

Benedictine Ingredients
1 large cucumber, grated
8 ounces cream cheese, softened
2 tablespoons onion, grated
1/4 tsp salt
1 tablespoon mayonnaise
dash green food coloring (optional)


To make it, start by grating the cucumber, skins and all. Wring it out in paper towels to absorb excess moisture. Combine with remaining ingredients in food processor and pulse until well combined. You can also use a hand mixer.
The most important part of preparing this recipe is to make sure you make the spread a few hours in advance to allow time for the ingredients to marry. The flavor is completely different!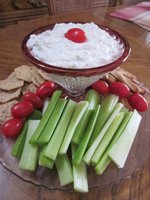 One of the most common ways to eat benedictine is to make finger sandwiches by spreading the mixture on bread. In the photo above you can see that I cut the crust off of some white bread and used a diamond-shaped cookie cutter.
After spreading the mixture on the bread I threaded cherry tomatoes and black olives on decorative toothpicks before sticking them in the sandwiches. You can also buy cocktail bread, like pumpernickel, but I prefer the taste of white bread with benedictine.
This mixture also makes a fantastic dip for veggies and crackers. I mean FANTASTIC, especially after it sits for awhile. Here you can see that I dressed it up with cherry tomatoes and served it in a fancy dish with celery sticks and crackers. So, so good!
Another Finger Sandwich Recipe - Cranberry Chicken Salad
Make this Cranberry Chicken Salad and serve it as finger sandwiches, regular sandwiches or even as a dip. The cranberries make this filling a bit sweeter than cucumber sandwiches.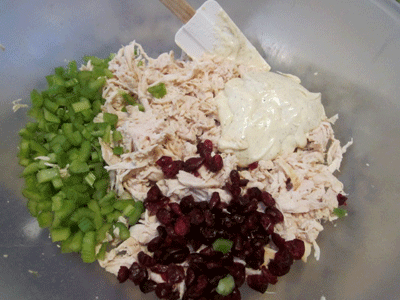 Cranberry Chicken Salad Ingredients
1/2 cup mayonnaise
2 tablespoons sugar
2 tablespoons apple cider vinegar
1/2 teaspoon salt
1/8 teaspoon pepper
4 cups shredded chicken
1/2 cup chopped celery
1/4 cup onion
1/2 cup dried cranberries
Add mayonnaise, sugar, apple cider vinegar, salt and pepper to a food processor and pulse until well blended.
Add chicken, celery, onion and cranberries and pulse until mixture is well combined but still a bit chunky. If needed add a couple tablespoons of milk to achieve a spreadable consistency.
Spread cranberry chicken salad on bread squares and serve cold. Makes 24 finger sandwiches.
Find more of our favorite finger sandwich recipes here.