Canapes
How does one define canapes? Well, they are tiny appetizers, that are really works of art, served on a base like a cracker or polenta round. Usually they can be eaten in one or two bites max.
The combination of ingredients used to create these delectable finger sandwiches are endless, but most consist of these three parts:
The Base - The sturdy foundation that the other ingredients are built upon. Bread, crackers, Phyllo cup...
The Condiment - This is the glue that holds the finger sandwiches all together, spread on top of the base. Preserves, sauces, soft cheeses...
The Toppings - Exactly what is says...the toppings. These are the interesting combinations of ingredients that really make up the guts of these finger sandwiches. The list of combos is endless. Could be savory like roast beef and asparagus or could be sweet like mango chutney and strawberry compote.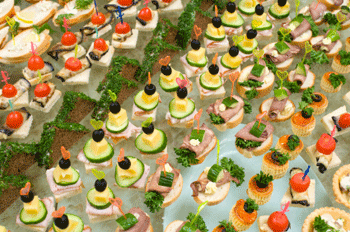 Featured Canape Recipes - Gruyere Apple
The combination of Gruyere cheese and apples creates such of wonderful flavor. These finger sandwiches remind me of dipping apples in cheese fondue but with a crunch from the pecans and a slight oniony flavor from the chives. So good!
1 loaf of Italian bread, 3 inches in diameter
Butter
3-oz. cream cheese, softened
1/2 cup Gruyere cheese, shredded
2 teaspoons milk
1 teaspoon prepared mustard
1/4 cup apple, peeled and shredded
1 tablespoon pecans, finely chopped
1 teaspoon chives, chopped
In this recipe, the crostini serves as the base while the spread serves as both the condiment and the toppings.
To Make Crostini
Preheat broiler. Cut bread into slices, about 3/4 of an inch each. Broil first side for 1 to 2 minutes and flip over. Spread with butter and broil an additional 1 to 2 minutes until very lightly browned. Cool Completely.
Normally you can make 18-24 finger sandwiches, depending on the length of the bread loaf.
To Make Spread
In a small bowl, beat cream cheese; stir in shredded cheese, milk and mustard until well blended.
Stir in remaining ingredients. Cover and chill at least 1 hour to give the flavors a chance to marry. When ready to serve your finger sandwiches, spread on crostini and top with a few more chives for color.

Build Your Own Finger Sandwiches
Building your own is easy. Just pick a base, add a condiment and choose your toppings. Preparation is usually just a matter of assembling the three parts and placing the appetizers on a serving platter.
Here are some canape recipes to get you started:
Base Suggestions - Baguette slices, bagel chips, crackers, polenta rounds, party ryes and Phyllo dough cups.
Condiment Suggestions - Cream cheese (use flavored varieties too!), mayo, sour cream, mascarpone cheese, Port Salut cheese, ricotta, goat cheese, brie, preserves, sauces and other spreadable condiments.
Topping Suggestions - Meats like deli roast beef or smoked salmon, fresh herbs like basil, dill and thyme, veggies like roasted red pepper, cucumber and arugula. Also olives and fruit, especially melon, pears and apples work great as toppings.
You Might Like These Combinations
We put together a list of 11 popular combinations. Use our exact combinations (reading left to right) or mix them up and create your own.
If you are serving canape recipes, your guests will also love Benedictine, or Cucumber Finger Sandwiches.