Best Crab Cake Recipe
I have been on the hunt for the best crab cake recipe ever since a Fresh Market store opened up in my neighborhood. I have two grown children who do not eat red meat, and on occasion, I have bought the Fresh Market cakes when I have been pinched for time.
They are very good but are expensive and kind of on the small side. Not only that but I could never find a decent sauce to go with them.
I started snooping around and found a few crab cake recipes in cookbooks I own. Many of the recipes call for canned crabmeat which is very fine. The texture of the finished cakes wasn't what I expected nor did they have that rich, buttery crab taste that I was hoping for.
Instead of canned crabmeat, the recipe below uses jumbo lump crab meat which comes in a 16 oz. tub that I found at Sam's Club for about $15.00.
That may seem expensive but you can feed 4 hungry adults (1 cake each) and I guarantee no one will leave the table hungry. When you think about it, one restaurant meal usually costs more than that!
This recipe makes 4 giant crab cakes as you can see here.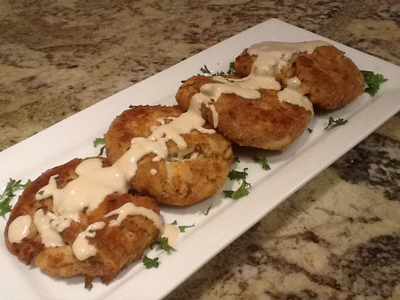 I have officially deemed this the best crab cake recipe ever. The jumbo lump crab makes all the difference in the world and the sauce is perfectly tangy and creamy at the same time.

Crab Cake Receipe
1/4 cup real mayo (like Dukes which I find at Fresh Market)
1 egg
1 teaspoon Worchestershire sauce
1 teaspoon Dijon mustard
1/2 teaspoon Old Bay seasoning
2 teaspoons freshed parsley, chopped fine
1/3 cup plain bread crumbs
1 pound (16 oz.) lump crab meat



1/2 cup plain bread crumbs or Panko for coating
1/2 cup oil (I use Canola)
1/4 cup (1/2 stick) butter
Mix together the mayo, egg, Worchestershire, Dijon, Old Bay and parsley in a large bowl. Stir in the 1/3 cup of bread crumbs. Mixture will be like a paste.
Gently fold in the lump crab meat being careful not to break it up too much. You want to large chunks of crab to remain.
Pour the 1/2 cup bread crumbs or Panko into a pie plate. Form 4 crab cakes with your hands. They should be about 4 inches in diameter and about an inch thick. Press the cakes into the bread crumbs coating both sides.
Lay the crab cakes on a cutting board or plate and cover with plastic wrap. Refrigerate at least 20 minutes to help keep them from falling apart when cooking. While the cakes are being refrigerated, make the crab cake sauce recipe below.
How to Cook Crab Cakes
Preheat oven to 375 degrees.
Melt the butter in the oil. When the oil is hot, carefully place the cooled crab cakes in the oil and saute until lightly browned, about 3 minutes per side. Move them to a baking sheet and bake 10 minutes in the oven.
Crab Cake Sauce Recipe
1/4 cup real mayo (not reduced fat)
2 teaspoons Dijon mustard
2 teaspoons milk
1/2 teaspoon Worchestershire sauce
1/4 teaspoon A1 steak sauce
1/4 teaspoon salt
Combine all ingredients and chill until ready to serve. When I made the dinner below, I doubled the crab cake sauce recipe, drizzled some on the cakes and served the rest on the side. For side dishes, I chose some Pillsbury bisquits, a veggie bake and my favorite Roasted Asparagus recipe.