Best Crab Dip
I think I finally found the best crab dip recipe especially for entertaining and special occasions.
Last week, my family celebrated our first Thanksgiving in our new house. It took almost a year of hard work to make this home liveable as it was built in 1953 and was abandoned for the past 5 years.
Since this was a special occasion, I asked everybody ahead of time what they wanted for side dishes. Did they want the usual sausage stuffing, mashed potatoes and cranberry sauce or did they want to try something new?
My daughter asked me to make sure we had corn (nothing special about that!), my son didn't have any requests and my husband decided that he wanted crab dip for an appetizer before dinner "with a really crunchy top."
I had a crab dip recipe from a southern cookbook that I've used before, but it was pretty plain. I wanted to make a special dip for this occasion so I tweaked the recipe until it turned into a masterpiece IMHO.

Best Crab Dip Recipe
First let me say that this recipe calls for jumbo lump crab meat. I bought a 16 oz. tub of Paramount Reserve brand (bottom right of photo) at Sam's Club for about $15.00. By the time I added the other ingredients and the dippers, this dip cost around $20.00 to make.
If you think that is too expensive, you could substitute canned crab or imitation crabmeat, but you will not get the same results. The jumbo lump crabmeat really is a must in this recipe. It is rich and buttery and worth every penny! The primary ingredients are shown here.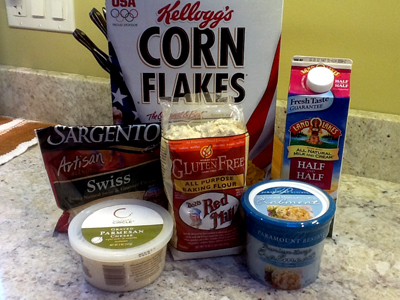 Ingredients
1/2 cup butter (1 stick)
6 green onions, mostly the green part, chopped
1/2 cup fresh parsley, finely chopped
2 tablespoons flour
2 cups half-and-half
5 oz. Swiss cheese, grated
1/4 cup Parmesan cheese, grated
1/4 teaspoon cayenne pepper
Salt to taste, about 1/2 teaspoon
1 pound jumbo lump crabmeat
Optional Topping: 1/2 cup crushed corn flakes or bread crumbs, 2 tablespoons melted butter and 1/2 teaspoon parsley for color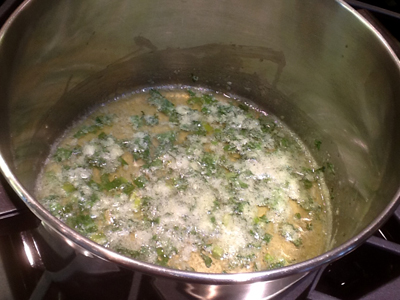 Melt butter in a heavy pot and saute the onions until soft. Add parsley and saute for 1 minute.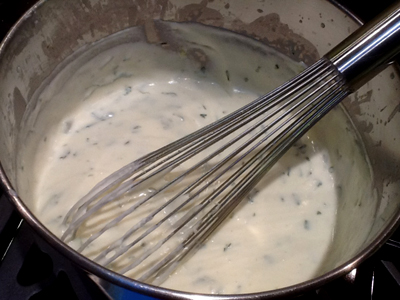 Blend in flour (I used gluten-free but regular flour is fine), cream and cheese. When cheese is melted, add remaining ingredients and GENTLY fold in the crab meat making sure not to break up the crab.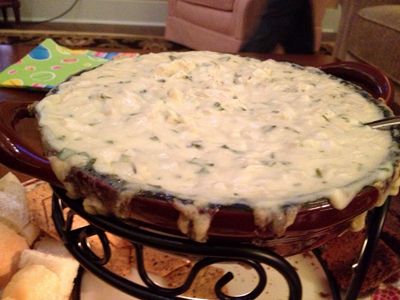 You could serve it immediately but I transferred the mixture to my handy cast iron Rick Bayless fondue dish, let it cool then refrigerated it until we were ready several hours later.
Optional Topping: I blew it. One of my husband's requests was to add "a crunchy top" and I totally forgot to do it. The first photo I took above had the corn flakes in it so I know it was on my radar screen in the beginning, but somehow I forgot to add the topping at the end.
The next time I make it, I will definitely add the topping because I think it will make it even better. If you choose to add it, just melt the butter, add the corn flakes (or bread crumbs) and parsley and mix until crumbly. Then sprinkle over the crab mixture and bake for at least 15 minutes until the topping is lightly browned.
If you want to serve it later, add the topping, refrigerate until ready and then just pop it in the oven on low (275 or 300 degrees at most) and slowly warm it up to keep the crab from getting tough. It took about an hour until it was warmed through and bubbly.
Important: This dip is best served warm so keep it in a chafing dish if you have one or warm it up periodically while people are eating it.
We served it with chunks of Pumpernickel and Italian breads plus gluten-free crackers for me. I would classify this as a "heavy appetizer" because it's very filling and definitely NOT on the Weight Watchers menu.
My family thinks this is the best crab dip ever and we hope you like it as much as we do.
Another one of my favorite recipes using Paramount Reserve Jumbo Lump Crabmeat is this Crab Cakes with Dijon Sauce recipe. A great choice for a small dinner gathering.