Best Guacomole Ever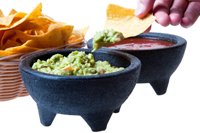 I have been making the best guacomole ever for as long as I can remember. Well, it didn't start out being the best. It took me a long time to learn how to make guacomole properly. This recipe has gone through several revisions over the years.
Occasionally I will add additional ingredients when I want to change things up a bit. For example, a Hispanic friend of mine taught me to add 1/2 cup of pumpkin seeds for a nutty twist. Sounds weird, I know, but they add such a nice crunch and depth of flavor. Let's start with the basics.

4 Hass avocados
1 tablespoon lemon juice
1/2 cup red pepper, finely chopped
3 tablespoons cilantro, chopped
1 jalapeno pepper, seeded and finely chopped
1 teaspoon garlic salt
1/2 cup sweet onion, finely chopped (I use Vidalia)
Tortilla chips, Fritos or Tostido scoops


Cut avocados in half and remove the skin and seeds. Place in a mixing bowl and mash avocados with a fork, blending with lemon juice to reduce browning. Leave it chunky for texture.
Reserving a tablespoon of each, add red pepper and cilantro to the avocados. Starting with half the jalapeno, add to taste. Lastly, add garlic salt and onion.
Mix everything together and then transfer to a serving bowl. Garnish with reserved red pepper and cilantro and serve immediately with chips.
Optional: As mentioned above, add 1/2 cup of Roasted Pumpkin Seeds for a nutty crunch. Not only are pumpkin seeds a rich source of minerals, protein and monounsaturated fat, but they also help reduce inflammation in the body and have a component which lowers cholesterol.
Click here for more Dip Recipes.