Roasted Pumpkin Seed Recipes
by Theme Party Queen
(Chicago, IL)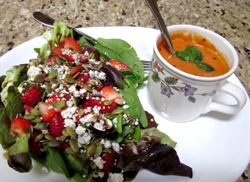 Strawberry Feta Salad w/ Roasted Pumpkin Seeds
Here are 3 Roasted Pumpkin Seed Recipes.
Standard Recipe Heat oven to 250 degrees. Put 2 cups washed and dried pumpkin seeds into a jelly roll pan. Toss with 1 teaspoon olive oil and 1/4 tsp salt. Spread in a single layer and bake, stirring occasionally, 50-60 minutes until toasted. Eat as is or shell for favorite recipes like the Strawberry Feta Salad shown above.

Chili Coated Roasted Pumpkin Seed Recipe Make as above but add 1 tsp chili powder and 1/4 tsp ground red pepper to the salt.

Parmesan Roasted Pumpkin Seed Recipe Use Standard recipe above adding 2 tbsp Parmesan cheese and 1/4 tsp garlic powder to the salt.

In addition to adding shelled pumpkin seeds to salads, try adding them to my Favorite Guacamole Recipe for an unusual flavor and nutty crunch.

Roasted pumpkin seeds are a fantastic source of vitamins and minerals. Plus they reduce inflammation and lower cholesterol. Look for ways to substitute them in recipes whenever possible.




Want To Stay In Touch With Theme Party Queen?
Here's how you do it:
Our goal is to create a community of like-minded people who like to share ideas and who are open to making new friendships. We would love for you to join us today.