Bunco Bacon Dip
by Nancy
(Iowa)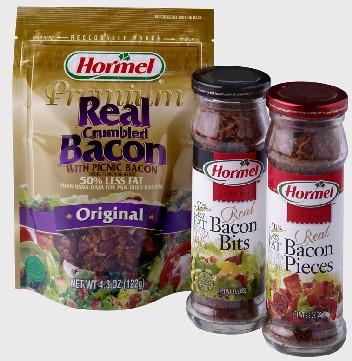 Save Time-- Use Real Bacon Bits
This bacon, swiss cheese dip with green olives and onions can be used in so many ways! Spread it on party ryes and bake them, hollow out a french baguette and fill it up with this dip or just serve it with crackers. The perfect Bunco appetizer!

12 oz. or 1 lb. bacon, cooked and crumbled (save time and use the kind in the picture)
6 oz. Swiss cheese, shredded
6 oz. jar green olives, sliced
4 green onions chopped (both green and white)
1/3 cup mayo or enough to combine ingredients
2-4 tablespoons milk, if desired for consistency

Mix everything together adjusting each ingredient to taste. Serve with crackers, veggies or on party ryes.
Want To Stay In Touch With Theme Party Queen?
Here's how you do it:
Our goal is to create a community of like-minded people who like to share ideas and who are open to making new friendships. We would love for you to join us today.