Bunco Theme Food
I have hosted several Bunco Theme Parties at my home, usually for
12 players at a time.
When planning my Bunco menu, I rely on fast and easy appetizer and dessert recipes, like these Pear Custard Dessert Bars. Every time I serve them, somebody asks me for the recipe.
The best Bunco Theme Food is: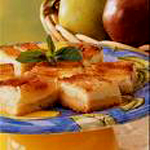 Easy to make
Has few ingredients
Easily transportable
And of course, tasty!
Really no matter what kind of theme party I am hosting, I ALWAYS look for recipes with these characteristics. Do you have any such recipes that would work well for a Bunco Theme Party that you are willing to share?
Also, if you are hosting a Bunco Theme Party and are looking for some ideas yourself, don't forget to check out our Bunco Theme Party webpage.
You will find details on how to play the game, a free Bunco scorecard, ideas for invitations and decorations and recipes for some of my favorite Bunco Theme Food, including the Pear Custard Bars above.
What's Your Favorite Bunco Theme Food?
We all appreciate recipes that include photos.
What Other Bunco Players Have Said
New Bunco Theme Food Ideas Start Here...