Caesar Pasta Salad
by Sandee
(IL)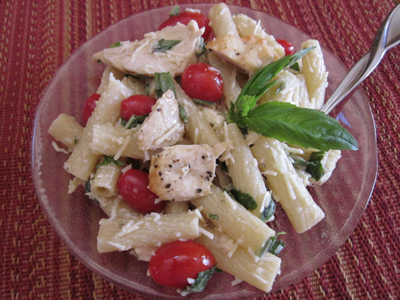 Lemon Pepper Caesar Pasta Salad
This Caesar Pasta Salad is loaded with fresh herbs and lemony peppered chicken making this a perfect dish for a Mothers Day brunch, bridal shower or ladies luncheon.

My friend Saundra makes a similar recipe but instead of using grape tomatoes, she uses sun-dried tomatoes which are equally good.

I added the lemon pepper because I think it pairs really well with the other ingredients and is so flavorful that you don't have to add as much salt if you don't want to.

You can get away with bottled dressing but the fresh herbs are really important in this pasta salad dish, especially the basil. Dried basil does not even compare to the flavor that fresh basil adds to this salad.

Alter the kind of salad dressing you use as well as the type of pasta each time you make it; it is such a versatile pasta salad! I recently made it with Orzo and added some black olives.
Ingredients
4 skinless and boneless chicken breast halves
Cooking spray, lemon pepper and kosher salt
16 oz. box of pasta, cooked as directed, drained and cooled
1-16 oz. bottle of Caesar salad dressing (I like Newmans brand)
1/2 cup feta cheese
1-8 oz. bag shredded parmesan cheese
4 oz. container grape tomatoes
10 fresh basil leaves or about 3 tablespoons
7 sprigs of fresh oregano or about 2 tablespoons without stems
Preheat oven to 350 degrees. Place chicken breasts on a sprayed cookie sheet. Spray tops of breasts and then generously sprinkle with lemon pepper and salt.
Bake for 20 minutes or until chicken is lightly brown. Cover with tin foil and allow to cool. Slice into bite-sized pieces and place in a large bowl. Add cooked pasta and salad dressing. Toss well to coat.
Add tomatoes, feta and parmesan cheeses and toss again.
Create ribbons of basil by stacking leaves, rolling them up like a cigar and the slicing thinly. Remove oregano leaves from stems. Add basil ribbons and oregano leaves to pasta bowl. Toss gently a final time.
Serve and plates and garnish will a sprig of basil. Serves 4.
NOTE:
This salad is also very good served warm. Just mix chicken and pasta while still warm with salad dressing then add the other ingredients and toss gently.
Try this easy recipe with a good loaf of Italian bread or some version of our
Gooey Cheese Bread
.
Our goal is to create a community of like-minded people who like to share ideas and who are open to making new friendships. We would love for you to join us today.