Garlic Cheese Bread
This unique garlic cheese bread recipe will soon become a family favorite. Usually eaten as a side dish to pasta, this is really more like an appetizer filled with your favorite ingredients and topped with with 1/2 inch of gooey, garlicky cheese.
My kids and their friends used to ask me to make it for parties and get togethers.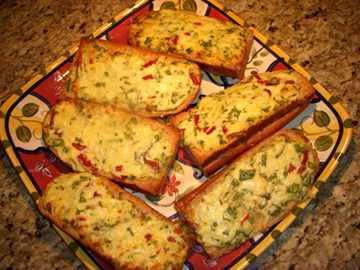 Ingredients
1-8 oz. package of shredded cheese (any variety
3/4 cup mayo (not fat free)
2 teaspoons dried parsley
1/2 teaspoon garlic salt
1-16oz. loaf of French or Italian bread (I use the fuller loaves, not skinny ones)
Cut the bread in half, lengthwise. Combine the first 4 ingredients and spread on the cut sides of the bread. Mixture will be thick.
Place on cookie sheet and bake at 350 degrees for 15 minutes or until tops are lightly browned and bubbly.
This bread is different than the typical garlic bread. The cheesy mixture is about 1/2 inch thick and really gooey when you bite into it. Once you try it, you will agree that it goes well with any meal. It even makes a great appetizer.
After a while, you won't have to measure anything because you will get used to the consistency that's needed and will begin to improvise with different cheeses and spices. I've added green chilis, chipotle peppers and other ingredients when I want to switch it up a bit.
ONE OPTION: I recently made this garlic cheese bread recipe but altered it and the result was out of this world yummy! Check out the picture above.
Here's how I did it. For the cheese I used shredded queso (that stuff melts beautifully!) and I substituted the dried parsley for 1/2 cup chopped fresh baby spinach. The red stuff you see is one small jar of drained pimentos.
That's the beauty of this recipe. As long as you have a base of mayo and shredded cheese, you can add whatever else you want. Olives, shredded chicken, chipotle peppers in adobo, sundried tomatoes, fresh basil, green and red peppers...You get the idea.
Click here for more easy vegetarian dishes.