Chicken Piccata
When I visit an Italian restaurant I have three dishes that I love to order, one of which is Chicken Piccata. I have a thing for just about any dish with a lot of sauce and this one certainly meets that criteria.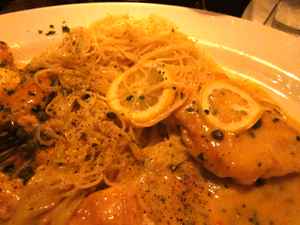 The other two dishes that I love to order are Eggplant Parmesan and Chicken Marsala but let's focus on the first one here.

Chicken Piccata Ingredients
1-1/2 pounds chicken cut 1/4-1/2 inch thick
Salt and pepper to taste
3 tablespoons flour
3 tablespoons butter
1 tablespoon olive oil
1 clove garlic, minced
2 tablespoons lemon juice
1/2 cup dry white wine
2 teaspoons capers
3 tablespoons minced fresh parsley
1/2 lemon thinly sliced
Freeze chicken slightly to cut thin. Sprinkle with salt and pepper and dust with flour. Heat butter and oil in skillet and brown chicken. Remove from pan and cover to keep warm.
Add garlic to skillet and cook 1 minute. Add lemon juice and wine and then return chicken to the pan. Cover and simmer 20 minutes then add capers. Top with parsley and lemon slices and serve on a bed of linguini.
How To Make Chicken Piccata - Video
I found this video on YouTube, courtesy of the Crafty Cook, which shows how easy it is to make this recipe. My recipe is the same except I add garlic. I love it served over Angel Hair pasta with Dilled Carrots.